Home

/

Cleaning

/

Choice One Medical
Purdoux Grapefruit & Lemon CPAP Mask Wipes
BY Choice One Medical
Item #718207522422
---
Order ships today if placed by 4PM CST
Purdoux Grapefruit/Lemon CPAP Mask Wipes
Overview
Purdoux CPAP Mask Wipes with Grapefruit & Lemon clean and disinfect your CPAP mask and accessories, and leave behind a pleasing smell of lemon with notes of grapefruit.
Regular cleaning and disinfecting of CPAP equipment is important because it's the way you remove germs and harmful bacteria that can build up over time. Regular household cleaners leave a chemical residue behind that could be toxic and harmful if inhaled, and can also reduce the lifespan of your equipment, so you don't want to use them.
Doctors recommend you not use soaps and household cleaners to clean your CPAP machine and accessories, because of the dangers of poisoning your therapy air from the residues left behind by soaps and other cleaners. They recommend using color free, non-toxic mild soap and water for your CPAP cleaning needs.
Purdoux CPAP Mask Wipes are:
Alcohol & Solvent Free
Latex Free
Gentle on Hands and Silicone Surfaces
Ready to Use
Made With 100% Cotton
Purdoux CPAP Mask Wipes with Grapefruit & Lemon are a better way to handle your CPAP cleaning. They do have a slight fragrance of a lemon scent with a hint of grapefruit and can clean your CPAP equipment in a way that isn't toxic to you.
Each package of Purdoux CPAP Mask wipes contains 70 wipes.
Also Available from Purdoux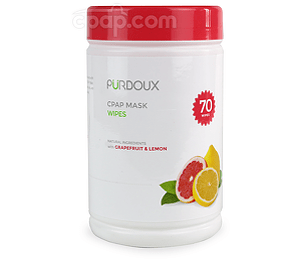 Purdoux Grapefruit & Lemon CPAP Mask Wip...
---