Take 15% off
your order of $200+ by subscribing!
Join Today!
Home

/

SUNSET
Standard CPAP Hose - 6 FT Long Tube with 22mm Cuffs
---
Order ships today if placed by 4PM CST
Standard CPAP Hose - 6 Ft 19mm
Overview
If you're tired of overpaying for standard 6-foot tubing, you're in luck! Sunset Healthcare Solutions Standard 6 ft CPAP Hose is one of the most budget-conscious designs available, and is a compatible replacement for the standard CPAP hose that came with your machine.
Economic Option Fits Most Budgets
While the other hoses may be more of more premium, flexible quality, those typically come with a higher price tag. This hose is our most economic option, designed to fit almost every budget.
Compatible With Most Models
The Sunset Healthcare Solutions CPAP Hose is standard-sized (19mm diameter) with 22mm cuffs on each end and will work with almost every CPAP, APAP, or BiPAP model on the market today. The rubber cuffs make an airtight seal with the machine and mask and it makes it easy to connect and disconnect. It doesn't work with any machine that requires slim or micro tubing.
Replace Your Hose Every 6 to 12 Months
CPAP tubing is meant to be disposable, and experts recommend replacing your hose every 6 to 12 months for optimal comfort. A CPAP hose should be replaced immediately if you notice cracks or tears, mold growth, or strange odors coming from your CPAP tubing.
Latex-Free and Designed to Avoid Kinks
The Sunset Healthcare Solutions CPAP Hose is latex-free and is designed to avoid kinking naturally, providing the optimal solution for your CPAP therapy. It has a smooth interior and a ribbed exterior and is designed in a way that doesn't restrict airflow.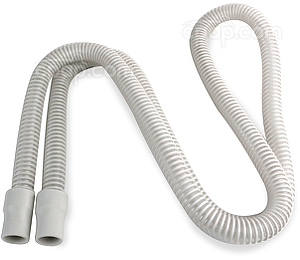 Standard CPAP Hose - 6 FT Long Tube with...
---