Home

/

Apex Medical
XT Heated Humidifier
BY Apex Medical
Item #Sh01001
---
Prescription required
Free Shipping
Order ships today if placed by 4PM CST
Need replacement parts & accessories?
Shop Now
Product
Overview
The XT Heated Humidifier is used with the Apex XT line of travel sized machines. The machine and humidifier offer a small foot print taking up little room on the bedside table.
The XT Heated Humidifier integrates perfectly with the XT line of machines from Apex to provided heated, moisturized air for therapy comfort. This is the humidifier with chamber and cord ONLY and does NOT include a CPAP machine.
Cleanable Chamber Design
Design Change Early 2015: The manufacturer updated the chamber design in early 2015, omitting the removable silicone top. The updated version has a metal plate which detaches from the bottom of the chamber. The indention located on the front, right hand side of the water chamber connects to the flat, black disc built-in to the base of the humidifier. The disc will aid the user in extracting the metal plate from the body of the chamber.
Humidifier Base
The XT Humidifier base is designed to hold an Apex XT machine in a secure stable manner. Rubber feet on the bottom of the base help to keep the humidifier in place on the bed side table. Simply position an Apex XT machine on the humidifier base and plug the jumper cord from the humidifier base into the back of the machine. Next, slide the included chamber onto the humidifier base, connecting it to the machine. A green LED light indicates when the humidifier is turned on. Plug the power cord into the humidifier base and into a wall outlet.
Humidity Temperature Control
The humidifier adjusts the temperature of the humidifier to minimize condensation in the tubing and keep the humidification level constant throughout the night. Set the heat level by adjusting the control knob on the side of the humidifier base. Choose from 6 heat settings to set the desired humidity level. Set the knob to 6 for maximum humidification and 1 for minimum humidification. A setting of 1 does not turn the humidifier off.
Universal Power
Convenient for travel or at home, the heated humidifier accepts 100 - 240v without changing fuses. When traveling internationally, a wall outlet adapter may be required such as World Traveler Power Adapter Plugs.
Compatible XT Machines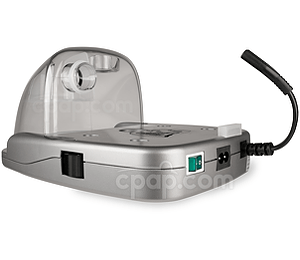 XT Heated Humidifier
---