Take 15% off
your order of $200+ by subscribing!
Join Today!
Home

/

Apex Medical
XT Fit CPAP Machine
BY Apex Medical
Item #SF01101
---
Prescription required
Free Shipping
Order ships today if placed by 4PM CST
Need replacement parts & accessories?
Shop Now
Product
Overview
The XT Fit Standard CPAP Machine is both budget and travel-friendly. The XT Fit is a single-pressure machine but has ramp functionality built-in so that you have a chance to fall asleep comfortably before the machine reaches full therapy pressure.
The XT Fit is a compact and lightweight machine that works for almost every budget. It's small enough to be packed into the tightest spaces for travel, and it's a cost-effective device that makes it easy to own. It does not have a data card, and it doesn't track or record compliance information. It's a simple machine designed with one purpose: reducing your sleep apnea symptoms for a better night's sleep.
Features & Benefits
Travels Well! No Bulky Power Supply
Works Internationally with Plug Adapters
Ease Into Quality Therapy With the Ramp Feature
Lightweight and Easy to Use
Single-Pressure CPAP Machine
OPTIONAL: Heated Humidifier
Travels Well! No Bulky Power Supply
The XT Fit has a built-in power supply, so there's less to pack, and it makes it easier to carry. When you get to your destination, all you'll need to do is pull the cord into the plug, and you'll be ready to go!
Works Internationally with Plug Adapters
The XT Fit is designed to handle international voltages and can be used internationally, provided you have the right plug adapter for the country you're visiting.
Ease Into Quality Therapy with the Ramp Feature
If you're worried about struggling with the target pressure of your prescribed therapy, you're in luck! The XT Fit comes with a ramp feature built-in. The ramp feature starts the pressure at a low setting and gradually increases the pressure over a period of 45 minutes (adjustable in 5-minute increments). By the time you get up to your prescribed pressure, you will most likely be asleep.
Lightweight and Easy to Use
The XT Fit weighs 1.78 pounds and can be easily carried, and is ideal for packing in an overnight bag for a weekend getaway. It's also very easy to use. Just press the start button and set the ramp time you want and the machine does the rest!
Single-Pressure CPAP Machine
The XT Fit is a single-pressure CPAP machine, set to your prescribed pressure when it leaves our warehouse, and it will be ready for you when you get it in the mail. For an auto-adjusting machine at a similar price point, consider the XT Auto. The XT Auto uses auto-adjusting technology to automatically set the pressure to the proper level while you sleep. As your needs change, the pressure changes.
OPTIONAL: Heated Humidifier
The XT Heated Humidifier can be added to the XT Fit for more comfortable therapy. Heated humidification can reduce irritation caused by otherwise cold, dry air. The humidifier is designed specifically for the XT machines and adds very little overall footprint to the CPAP system. Add the XT Heated Humidifier when ordering if desired.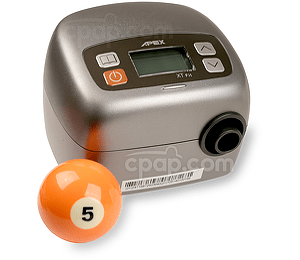 XT Fit CPAP Machine
---