Home

/

Fisher & Paykel
Pilairo Q Nasal Pillow CPAP Mask Assembly Kit
BY Fisher & Paykel
Item #400HC565
---
Order ships today if placed by 4PM CST
Need replacement parts & accessories?
Shop Now
Product
Overview
The Pilairo Q Nasal Pillow CPAP Mask Assembly Kit by Fisher & Paykel is the complete Pilairo Q mask WITHOUT the headgear. It includes the mask frame and nasal pillow cushion. A mask assembly kit provides a great way to refresh a mask without having to purchase the complete mask.
The Fisher & Paykel Pilairo Q Nasal Pillow CPAP Mask Assembly Kit is the the entire mask only. This product includes the nasal pillow cushion, mask frame and short tube assembly including the swivel.
The lightweight Pilairo Q is an improvement on the original Pilairo Nasal Pillow mask. Fisher & Paykel added the diffuser filter to the exhalation port which reduces the sound and softens the exhalation stream. The same nasal pillow cushion is used by the Pilairo Q.
PLEASE NOTE: This package DOES NOT include the headgears. The headgear pack may be purchased separately: HERE.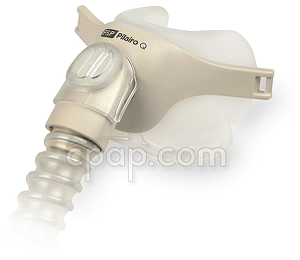 Pilairo Q Nasal Pillow CPAP Mask Assembl...