Take 15% off
your order of $200+ by subscribing!
Join Today!
Home

/

Fisher & Paykel
Pilairo Q Nasal Pillow CPAP Mask with Headgear
BY Fisher & Paykel
Item #400421
---
Prescription required
Free Shipping
Free Returns
Order ships today if placed by 4PM CST
Need replacement parts & accessories?
Shop Now
Pilairo Q Nasal Pillow Mask
Overview
Building on the success of the Pilairo mask, the Pilairo Q Nasal Pillow CPAP Mask with Headgear adds new features to the original design to earn the "Q" for quiet in its name. Features added include a diffuser filter for quieter exhalation and two headgear options included to offer a better fit.
The Pilairo Q Nasal Pillow CPAP Mask with Headgear makes advancements on the already popular and lightweight Pilairo mask. The Pilairo Q is a great option for those looking for a simple yet effective nasal pillow mask.
Features
Lightweight Design
Quiet Exhalation
AirPillow Seal
Two Headgears Included
Lightweight Design
The Pilairo Q finds stability without the need of a bulky frame or headgear, making it a nasal pillow mask that offers the best seal possible without being cumbersome. There is no forehead support to block bedtime reading or TV watching.
Quiet Exhalation
One of the main improvements from the original design lies in the diffuser and exhalation port of the Pilairo Q. An added diffuser helps reduce noise created from air being released through the exhalation ports, providing a better experience for the user and bed partner alike.
AirPillow Seal
The popular one-size nasal pillow from the original Pilairo are featured on the Pilairo Q. The pillow self-inflates when air pressure is provided to the mask, offering the best opportunity for a effective seal to be created at the nares or nasal openings.
Non-Adjustable and Adjustable Headgear
Due to the stable design of the nasal pillows, a simple non-adjustable headgear is included and may be all that is needed to provide a comfortable fit and seal. The Pilairo Q also includes a new adjustable headgear which is included if a more customized fit from the headgear is desired.
To view reviews and information regarding the original Pilairo, click here.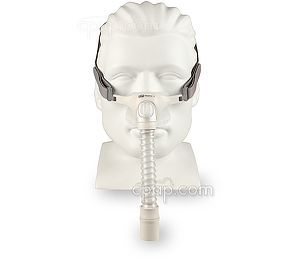 Pilairo Q Nasal Pillow CPAP Mask with He...
---
Compare Similar Products