Take 15% off
your order of $200+ by subscribing!
Join Today!
Home

/

Hans Rudolph
Hans Rudolph 7600 Series V2 Full Face CPAP Mask with Headgear
BY Hans Rudolph
Item #113488
---
Prescription required
Free Shipping
Free Returns
Order ships today if placed by 4PM CST
Need replacement parts & accessories?
Shop Now
HansRudolph 7600 V2 Mask
Overview
The Hans Rudolph 7600 Series V2 Full Face CPAP Mask with Headgear is the second generation mask from Hans Rudolph. Enjoy a clear line of sight with no forehead support adding bulk.
The redesigned Hans Rudolph 7600 Series V2 Full Face CPAP Mask with Headgear is a full face CPAP/BiPAP mask without a forehead support. The single-molded mask frame and cushion are made of clear silicone rubber and is contoured to fit over the chin. The one piece design and soft material allows for greater flexibility through a broad range of 5 different mask sizes. As an added upgrade, the 7600 V2 comes with a new Tri-Glide headgear design.
The redesigned version 7600 Series V2 mask offers several improvements over the original design by Hans Rudolph.
A summary of improvements include:
New seal design; inclusion of facial sealing flange/membrane
Lighter weight than original design; thinner silicone walls
Clip arrangement; uses new quick-release strap clips
CO2 venting changed; moved from top of mask to elbow
Nose brace; to aid in supporting the face piece
Headgear; changed to a universal polyurethane foam strap
Detachable swivel; allows user to disconnect from equipment without removing mask
Tri-Glide Adjustable Top Strap
3 Size Options
Most notably, the seal has changed to incorporate a membrane inside the cushion. For support, the cushion surface uses a series of flanges around the base and is constructed out of a thinner, softer and more comfortable silicon material than the original version. Because of the thinner mask walls, two structural braces have been added for cushion support.
Hans Rudolph also moved the CO2 venting ports off the bridge of the nose to just above the anti-asphyxia valve, pointing the airflow perpendicular to the body.
The last enhancement to the 7600 V2 mask system involved changing the type of headgear and clips. The new V2 uses a nylon covered, polyurethane foam strap with new quick-release clips that slide easily into the mask frame. Now with the new Tri-Glide feature allows users to tighten or loosen the top headgear strap. Unlike the original version, the new 360° swivel elbow port comes with a detachable swivel adapter for quick removal of the CPAP hose; improving mobility and temporary detachment.
3 sizes of headgear are available; small (included with the extra small and petite mask sizes), medium (included with the medium and small mask sizes) and large (included with the large mask size).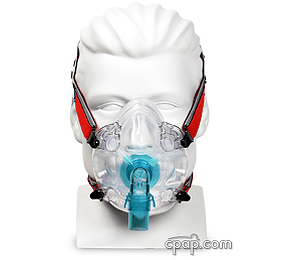 Hans Rudolph 7600 Series V2 Full Face CP...
---