Take 15% off
your order of $200+ by subscribing!
Join Today!
Home

/

Nasal

/

Philips Respironics
ComfortGel Blue Nasal CPAP Mask WITHOUT Headgear
BY Philips Respironics
Item #1070041
---
Prescription required
Free Returns
Order ships today if placed by 4PM CST
Need replacement parts & accessories?
Shop Now
ComfortGel Blue Nasal Mask Kit
Overview
The ComfortGel Blue Nasal CPAP Mask WITHOUT Headgear by Philips Respironics features an improved gel cushion and an adjustable forehead support. Angled micro exhalation ports located along the elbow of the mask reduce the overall airflow noise. The updated gel cushion is interchangeable and can be placed on Original ComfortGel mask frames when the ComfortGel Blue nasal cushion and the Original ComfortGel nasal cushion are the same size. This is a mask without headgear and requires a prescription.
Philips Respironics' ComfortGel Blue Nasal CPAP Mask WITHOUT Headgear is made with a updated gel material, which is softer than the original gel. The improved design helps reduce noise and offers a suggested resistance control setting to be used on Respironics System One Machines.
Features
Sure Seal Technology (SST)
StabilitySelector Forehead Support
Angled Micro Exhalation Ports
System One Resistance Control
Sure Seal Technology (SST)
The ComfortGel Blue uses a dual, gel cushion and silicone flap system. Philips Respironics has improved the ComfortGel material, creating a more pliable gel, which conforms to the user's face with greater ease. Snap on the separate silicone membrane over the gel cushion to increase the life of the cushion. Sure Seal Technology refers to the contour of the seal around the Gel Cushion.
StabilitySelector Forehead Support
The StabilitySelector is the adjustable piece of the forehead support which allows for movement. The pad is developed to accommodate the angle of the user's forehead by attaching to the base, which moves in a up or down direction. The ComfortGel Blue forehead pad has cushioning that is easy to fit and improves comfort.
Angled Micro Exhalation Ports
The improved micro exhalation vents offer two advantages:
Smaller vents leave more surface area for additional micro vents. In this design, the 360 Degree Elbow holds more vents.
The minimized ports diffuse airflow quietly, which reduces the overall sound of the mask.
The angled aspect of the mask feature comes from the elbow, which allows the user to position the vents away from the bed partner.
System One Resistance Control
Resistance Control was developed due to the need for a machine to achieve optimal pressure, independent of the mask being used. Resistance Control is a numbering system located on all of Philips Respironics CPAP masks, which reflects variable resistance characteristics. Each number instructs the device to compensate for different mask types, resulting in consistent and reliable pressure enhanced with all the benefits of Flex Technology no matter which mask is used.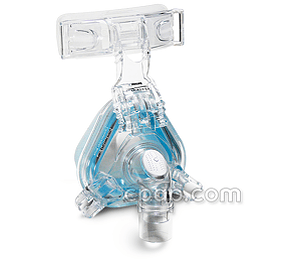 ComfortGel Blue Nasal CPAP Mask WITHOUT...
---