Take 15% off
your order of $200+ by subscribing!
Join Today!
Home

/

3B Medical
Luna II Auto CPAP Machine with Humidifier
BY 3B Medical
Item #LG2A00
---
Prescription required
Free Shipping
Item # LG2A00
Not Currently In Stock
Need replacement parts & accessories?
Shop Now
Luna II Auto CPAP Machine
Overview
The Luna 2 Auto CPAP Machine from 3B Medical is the newest member of the Luna family of CPAP machines. If desired, it can share your data with your doctor using Wi-Fi or a cellular connection and gives you an easy way to track and monitor your vital sleep health data using a QR code for easy access.
The Luna 2 helps keep a person comfortable at night by using smart, automatically adjusting therapy pressure, and features a backlit color LCD display, allowing for control of the Luna 2's most vital settings.
The Luna 2 APAP machine is the next generation in the Luna line of PAP therapy devices from 3B Medical, and has made many improvements over the Luna's original design.
The newest model features a color LCD screen, allowing a person to easily see how therapy is progressing and has a built-in dual-chamber heated humidifier-- a nice plus for any sleep apnea machine.
In The Box:
Machine
Water Chamber
Filter
Power Adapter
Power Cord
Tube
SD Card
Carrying Case
User Manual
Product Features:
Uses Wi-Fi or Cellular Connection to Share Data (if Desired)
Color LCD Display
Built-In Dual-Chamber Heated Humidifier
Easy Access to Your Data Using Convenient QR Code
60-Minute Ramp Time
Automatically Adjusting Pressure
Reslex® Expiratory Pressure Relief
Auto Start and Mask Leak Alerts
Shares Data With Your Healthcare Provider Over Wi-Fi or Cellular, If Desired
For those who would like to share their sleep data with their physician, the Luna 2 can do so over Wi-Fi or by using a cellular connection. If a Wi-Fi network is available, but a cellular signal is not, data sharing can still take place. Data sharing is optional, and the feature can be turned off.
User-Friendly Color LCD Display
Get up-to-the-minute data about your sleep by using the backlit color LCD display, located on top of the machine. Navigate menus on the LCD display easily using an intuitive turning knob, and see how effective your previous night of therapy was. You'll get vital information about your sleep, without needing to do much extra work.
Built-In Dual-Chamber Heated Humidifier
The dual-chamber heated humidifier is intended to provide the same level of comfort while making it easier to clean. With the Luna 2 APAP Machine, the humidifier comes included with the price, so there's no need to buy anything else to get the level of comfort you deserve.
QR Code Provides Easy Access to Your Data
If you'd prefer to view your data on a phone, the Luna 2 makes it easy. Snap the available QR code and instantly get your data on your mobile device, and take it on-the-go! You'll need the 3B Luna QR app, available for Apple and Android.
60-Minute Ramp Time
Unlike most CPAP and APAP machines having a max 45-minute ramp time, the Luna 2 APAP has a ramp for 60 minutes. This gives a person an extra 15 minutes to fall asleep before reaching target pressure.
Automatic Pressure Adjustments - Fewer Trips to the Doctor!
Automatic pressure adjustments mean fewer trips to the doctor! As your body and lifestyle change, you may need to change your therapy pressure. With automatically adjusting pressure, you'll need fewer sleep studies, and fewer trips to the doctor, as the machine can measure your breathing and set a new pressure automatically. This saves time, copays, and extra hassle!
Reslex® Expiratory Pressure Relief
The Luna 2 features Reslex® Expiratory Pressure Relief, helping make it easier to exhale during therapy. This pressure relief feature makes it easy to breathe out, helping reduce bloating and cramping, while helping maintain a normal breathing sensation.
Auto Start and Mask Leak Alert
The Luna 2 has an auto start feature, allowing the machine to turn on after detecting breathing, meaning you won't have to lean or stretch to turn the machine on. Also, the machine can alert the user if there's a mask leak, by making an audible sound. Both the auto start and leak alert features can be turned off.
View More

+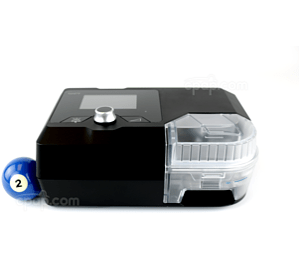 Luna II Auto CPAP Machine with Humidifie...
---