Home

/

Philips Respironics
Frame Connector for DreamWisp Nasal CPAP Mask
BY Philips Respironics
Item #1137961
---
Order ships today if placed by 4PM CST
Need replacement parts & accessories?
Shop Now
DreamWisp Frame Connector
Overview
The DreamWisp Nasal CPAP Mask Frame Connector is a replacement part added to the frame, extending or contracting it, accommodating faces of various shapes and sizes. The DreamWisp Nasal CPAP Mask Frame Connector is easy to use, and clips onto the existing hollow frame near the crown of the head. The connector is used to connect the two ends of the frame and the mask elbow.
If you've just ordered the DreamWisp Nasal CPAP Mask and it doesn't quite fit your face correctly with the included medium connector, you'll need to purchase this product in the desired size to expand or shrink the frame to correctly fit your face. This mask component is only compatible with the DreamWisp mask, and is not compatible with any others including the DreamWear or Wisp.
Philips Respironics makes 3 sizes of mask frame connectors for this mask: small, medium, and large.
If the medium doesn't work, you could pare down to a small or move up to a large.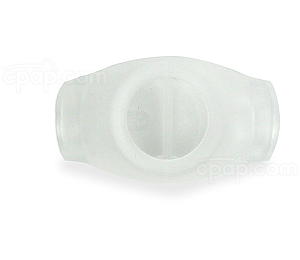 Frame Connector for DreamWisp Nasal CPAP...
---