Home

/

Fisher & Paykel
Eson 2 Nasal CPAP Mask Assembly Kit
BY Fisher & Paykel
Item #400ESN231
---
Order ships today if placed by 4PM CST
Need replacement parts & accessories?
Shop Now
Eson 2 Nasal CPAP Mask Assembly Kit
Overview
Mask assembly kits are a way to refresh your mask without having to purchase the complete mask. This is the Eson 2 Nasal CPAP Mask Assembly Kit.
The Eson 2 Nasal CPAP Mask Assembly Kit is the mask without headgear. The headgear may be purchased separately: Headgear for Eson 2 Nasal CPAP Mask.
F&P's original Eson Nasal Mask is known for its RollFit seal. The adaptive design glides over the bridge of the nose to accommodate changes in sleep position throughout the night. With attention to helping maintain a strong seal regardless of motion, the mask is intended to prevent leaks and nasal sores.
F&P's Eson 2 has a slimmer seal which accommodates various facial structures, helping to create the best fit. The cushion size does not impact comfort, as the design features a more supportive technology.
The Eson 2 Nasal Mask also covers less surface than the original design, which was already considered slim. The frame's ease of motion and a secure fit are further advantages of the RollFit technology. The full motion elbow moves in 360 degrees, potentially decreasing issues such as mask drag.
In addition, a small, grey diffuser is found on the top of the mask elbow. The fibrous fabric is eco-friendly and serves to quiet the device as air releases from the mask. This part is replaceable and can be changed out to aid the longevity of the Eson 2 nasal mask.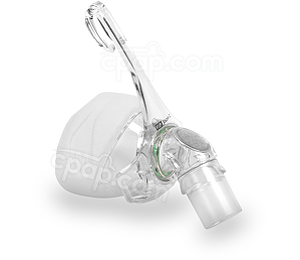 Eson 2 Nasal CPAP Mask Assembly Kit
---