Home

/

Nasal

/

AG Industries
Nonny Pediatric Nasal CPAP Mask with Headgear - Fit Pack
BY AG Industries
Item #AG-PED-KIT-S
---
Prescription required
Free Returns
Order ships today if placed by 4PM CST
Need replacement parts & accessories?
Shop Now
Nonny Pediatric Nasal CPAP Mask
Overview
Sleep apnea can affect those of all ages. The Nonny Pediatric Nasal CPAP Mask with Headgear - Fit Pack is made with the small faces of children and small adults in mind. The Nonny is available in two fit packs, and each includes two sizes of cushion.
The Nonny Pediatric Nasal CPAP Mask with Headgear - Fit Pack is a mask designed with children in mind. Two fit pack options are available: one with small & medium pediatric cushions, and the other with a large pediatric cushion and an extra-small adult cushion. This is a nasal mask which covers both nostrils entirely.
Features
Pediatric Use
Adjustable Frame
Flexible Short Tube
Five Point Headgear
Headgear Clips
Pediatric Use
The Nonny is approved for use of children and adults over 66 pounds. The cushions available are intended for very small noses of children and adults.
Adjustable Frame
The Nonny features a frame which can be easily adjusted from the forehead support for a more specific fit. Two arms extend from the frame into the forehead support which when squeezed together can be moved into a different position.
Flexible Short Tube
A flexible short tube acts as a buffer between the Nonny and the longer CPAP hose. This allows for easier movement during sleep without the longer hose tugging on the mask.
Five Point Headgear
The headgear of the Nonny is designed for stability. The two lower straps have clips which lock into the mask frame, the upper two straps loop into the forehead support, and the crown strap loops into a buckle on top of the head. The crown strap promotes a secure fit by better holding the mask in place.
Headgear Clips
The bottom straps of the Nonny headgear loop into headgear clips which then lock into the mask frame. The clips are quickly added or removed from the mask, making it easy to take on and off the mask.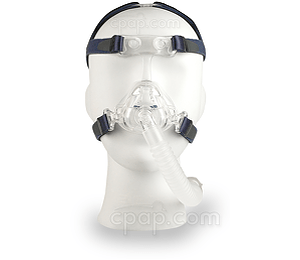 Nonny Pediatric Nasal CPAP Mask with Hea...
---