Take 15% off
your order of $200+ by subscribing!
Join Today!
Home

/

Somnetics
Transcend 365 Auto CPAP
BY Somnetics
Item #503091
---
Prescription required
Free Shipping
Item # 503091
Not Currently In Stock
Need replacement parts & accessories?
Shop Now
Transcend 365 Auto miniCPAP
Overview
Hit the trail, take to the skies, and be the road warrior you want to be—while bringing your humidification along for the ride. The Transcend 365 Auto has an innovative design that offers one of the most portable real water-based humidification systems that can operate off of battery power even when you're thousands of miles away from a power outlet.
When paired with the humidifier, it's one of the lightest in the world, weighing in at only 1.69 pounds, and it can almost fit into the palm of your hand! You'll also get $50 in free accessories like the official travel bag and different power cords that will connect you to almost any outlet in the world.
30-Day Risk Free Trial: Order the Transcend 365 and see if it's for you! If you don't like it for any reason, you can send it back for a full refund, no questions asked!
The Somnetics Transcend 365 is also FAA-approved for in-flight use and transport, allowing you to take to the skies with your therapy to start your next great adventure.
If you're also far away from a bottle of distilled water, that's not an issue either. The Transcend 365 Auto offers an optional filter that can turn tap water into distilled water, so you can refill your humidifier from anywhere.
Included Free Accessories (Valued at $50)
Travel Case
Power Cords for International Plugs
CPAP Hose
Features and Benefits:
Auto-Adjusting CPAP With Built-In Real-Water Humidifier
External Battery Powers Both CPAP and Heated Humidifier
FAA Improved for In-Flight Use
Lightest CPAP and Humidifier Combo in the World
EZEX Pressure Relief with 45-Minute Ramp
Seamlessly Transfer Data from the Transcend 365 to a Windows Computer
OPTIONAL: Portable Filter Kit Turns Tap Water Into Distilled Water
OPTIONAL: P10 Battery for the Transcend 365
Automatic Pressure Adjustments Mean Fewer Trips to the Doctor
Never make an appointment to change therapy pressure again! The Transcend 365 uses convenient automatic pressure adjustments. This can mean fewer trips to the doctor, and fewer sleep studies, as you will no longer need to manually adjust pressure. This can save you time and money.
External Battery Powers Both the Transcend 365 and the Humidifier
With the Transcend 365, you're free to go explore! The traditional humidifier you'll find in most machines has been redesigned to only deliver humidification when you breathe in. This means it uses less water, less power, and it enables a person to use humidification while connected to the battery when traveling or off-the-grid.
FAA Approved for In-Flight Use
Take to the skies while keeping up with your therapy with the Transcend 365. The Transcend 365 is FAA approved for in-flight use and is designed to use the humidifier with the external battery, keeping your nasal passages and throat moist while you travel to your next adventure.
Lightest Humidifier and CPAP Combo
At only 1.69 pounds, the Transcend 365 is small enough to be picked up with one hand, making it the lightest Humidifier and CPAP combination in the world. This helps make it easier to pack and more comfortable to carry, allowing you to go anywhere and do anything while keeping up with your CPAP therapy.
EZEX Pressure Relief with 45-Minute Ramp
The Somnetics Transcend 365 features EZEX Pressure Relief, to help make exhaling easier and more comfortable. It also uses ramp, a feature starting therapy at the lowest pressure and then gradually increasing it 45 minutes. This allows the user to fall asleep before reaching maximum pressure, helping beginners and seasoned pros alike fall asleep easier.
Seamlessly Transfer Data to a Computer
By using the USB port on the Transcend 365, you can connect your machine to a computer and access your therapy data. From there, you can use software to view and analyze your therapy data. The Transcend 365 currently does not have a mobile app for viewing data.
OPTIONAL: Portable Water Filter Kit Turns Tap Water Into Distilled Water
If ever you're far away from a bottle of distilled water, you'll be covered with the optional portable water filter kit, which is designed to filter all impurities out of tap water so you can use it in the Transcend 365 Auto's humidifier. By having this handy kit, you'll always have the water needed to keep your humidification going, even if you're nowhere near distilled water.
OPTIONAL: P10 External Battery Can Power Your Humidifier Too
Are you tired of turning off your humidification whenever you're off-grid, just because you're running on battery power? Now it can! The P10 battery for the Transcend 365 was engineered for your humidifier too, so you can run both while you're traveling and away from a power source.
View More

+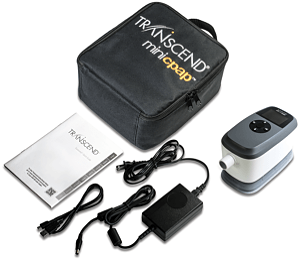 Transcend 365 Auto CPAP
---