Take 15% off
your order of $200+ by subscribing!
Join Today!
Home

/

ResMed
Mirage Swift™ II Nasal Pillow CPAP Mask Assembly Kit
---
Order ships today if placed by 4PM CST
Need replacement parts & accessories?
Shop Now
Mirage Swift™ II Mask Assembly Kit
Overview
The New ResMed Mirage Swift II comes with many design improvements over the original Mirage Swift.
Ultra-Quiet:
86% quieter than the original Swift; the Swift II mask is ultra-quiet and can help improve your sleep and that of your partner as well. The air vent is located on the frame instead of the cushion and disperses air gently downward more in line with natural breathing.
Small, Lightweight, and Travel Friendly:
At 2.5 ounces, this mask will not weigh you down. It has a very small footprint that covers less of the face. The pillows rest gently just under the nose. It folds up for easy travel. The minimal design creates comfort and helps users with better compliance and allows for reading or watching TV at bedtime even with glasses on.
Improved Pillows:
The details are microscopic but the user can feel it. ResMed has completed comprehensive studies using anthropometry (the study of human body measurements on a comparative basis) using a vast range of nasal and facial features and then improved the design of the pillows. This allows for a better seal and optimized comfort and fit for a wide range of people.
All pillow sizes are interchangeable with the mask frame.
This package comes with one set of pillows - select the size needed at the time of ordering.
Adjustable Angle:
An adjustable rotating pillow sleeve allows the user to select the best angle to conform to their unique facial features and helps to create ideal comfort and a superior seal.
Flexibility Counts:
The pillows, pillow sleeve, and the neck that connect them both are flexible and supple enabling for more comfort and a better fit and for some movement of the nasal and facial features.
Easy Fitting:
After initial fitting and adjustment the Swift II can be put on without velcro or clips. No need for daily readjustment.
Ease of Cleaning:
Assembly and disassembly are simple and easy, with very few parts, making for effortless cleaning or replacement of parts.
Choice in Tube Position:
The tube can be placed up (attached to the headgear) or down and on either side making for freedom and comfort and flexibility for the user.
This package DOES NOT include Headgear
. Headgear can be purchased separately
Mirage Swift™ and Mirage Swift™ II Replacement Headgear
or along with the fitpack
Mirage Swift II Nasal Pillow CPAP Mask with Headgear
.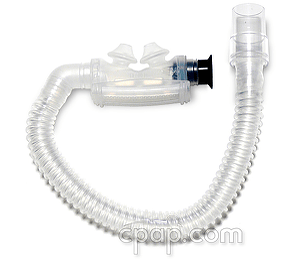 Mirage Swift™ II Nasal Pillow CPAP Mask...
---