Home

/

ResMed
AirFit F20 Complete Mask + AirMini Mask Setup Pack Bundle
BY ResMed
Item #38825/63400
---
Prescription required
Free Shipping
Order ships today if placed by 4PM CST
AirFit F20 + AirMini Mask Setup Pack
Overview
Calling all AirMini users: whether you are looking to switch from your current full face mask to the AirFit F20 or to refresh your setup, get everything you need and save 5% when you purchase this bundle!
The AirFit F20 + AirMini Mask Setup Pack Bundle Includes:
AirFit F20 Mask (Frame, Headgear, Magnetic Headgear Clips, and Cushion in Your Preferred Size)

AirMini Connector

AirMini Hose
Make the Switch to the AirFit F20 for the AirMini
By including the mask, hose, and special adapter for your AirMini, the AirFit F20 + AirMini Mask Setup Pack Bundle provides you with everything you'll need to switch AirMini masks. Whether you're transitioning from a nasal mask to the AirFit F20 or shifting from the AirFit F30, you are sure to enjoy these full face mask advantages:
Open Line-of-Sight:

Designed to have a small footprint and minimal touchpoints while still providing a quality seal.



No Forehead Pad:

The AirFit F20 has eliminated the need for a forehead support and in doing so, increased comfort by creating fewer touchpoints.



Magnetic Headgear Clips:

Magnetic headgear clips offer a secure fit while also making it easier to put on and take off your mask.



Ideal for Side Sleepers:

The AirFit F20's leak-proof seal holds up under pressure and moves with you.
Replace Your Hose and Mask Once Every Six to Twelve Months
To ensure optimal CPAP therapy results and a great night of sleep, it is recommended to replace your AirMini hose and mask once every six to twelve months! This bundle takes the stress out of finding all of those replacements parts by packaging everything you need for regularly scheduled replacements together.
In the Box
AirMini Hose

AirFit F20 Mask Frame

AirFit F20 Cushion (S, M, or L)

AirFit F20 Headgear

AirFit F20 Magnetic Clips

AirFit F20/AirMini Elbow Adapter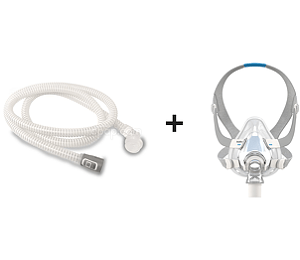 AirFit F20 Complete Mask + AirMini Mask...
---