Take 15% off
your order of $200+ by subscribing!
Join Today!
Home

/

ResMed
Ultra Mirage™ II Nasal CPAP Mask Assembly Kit
---
Order ships today if placed by 4PM CST
Need replacement parts & accessories?
Shop Now
Ultra Mirage™ Frame System
Overview
The Ultra Mirage II combines the best features of the Ultra Mirage mask and other popular ResMed nasal masks, offering a unique combination of comfort, convenience, quietness, and effectiveness.

Millions of sleep apnea patients have benefited from the superior comfort and seal of ResMed's Ultra Mirage Nasal Mask. Now there is an even better mask available - the Ultra Mirage II Nasal Mask. The Ultra Mirage II is similar in shape and design to the original Ultra Mirage, and offers the same high performance and quality with even more features.
Two-Layer Cushion
has a supportive inner layer that provides superior stability and a soft outer membrane that reduces the likelihood of leaks and pressure sores. Air flowing through the mask inflates the membrane and gently positions it against the face so that it forms a secure seal without the need for tight headgear. This unique design reduces the possibility of pressure sores and provides optimal comfort.
Quick Release Swivel
enables easy connection and disconnection to air tube
Flexible One Piece Forehead Pad
evenly conform to the contour of the forehead so pads stay in place
Cushion Clip
ensures mask cushion is easy to attach and detach from the frame
Unique Air Vent Design
provides optimum CO2 diffusion and reduces noise
360 Degree Elbow Rotation
provides flexibility of tubing position
Headgear Quick Clips
allows for fast and convenient removal of the mask without the need to re-adjust the headgear.
This package DOES NOT include Headgear
. Headgear can be purchased separately through the customization
Headgear for the Ultra Mirage™ II Nasal
or along with the "Mask with Headgear" packaging
Ultra Mirage™ II Nasal CPAP Mask with Headgear
.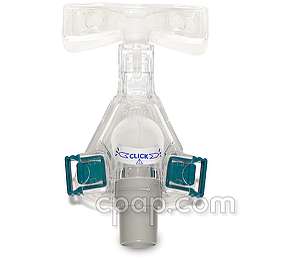 Ultra Mirage™ II Nasal CPAP Mask Assembl...
---