New Version Breeze SleepGear™ CPAP Interface System with TWO sets of Nasal Pillows (Medium & LARGE)
BY Puritan Bennett
Item #
---
Sorry, this item is no longer available.
Item #
Not Currently In Stock
New Version of the Breeze SleepGear™

Puritan Bennett, a part of Tyco Healthcare, is releasing an updatedversion of its popular Breeze SleepGear ™ CPAP Interface System for sleep apnea patients. The innovative Breeze SleepGear interface can be used with either Nasal Pillows or the Puritan Bennett® DreamSeal® Mask. Its streamlined design contours the head and floats over the face, giving patients the freedom to sleep in virtually any position. Multiple adjustments and size options allow a custom fit on a wide range of patients.

A number of design enhancements were recently made to the Breeze SleepGear interface based on patient feedback. The hose guide for the Nasal Pillows assembly features a stronger material to increase longevity. In addition, a new clip has been added to the Nasal Pillows assembly that gives patients greater flexibility in positioning the halo straps to help keep the interface securely positioned on the head. The cradle pad on the Breeze SleepGear interface has thicker padding to increase comfort, and a cuff has been added to the swivel adapter for greater convenience when disconnecting the interface.

The revolutionary one piece design of Breeze™ SleepGear™ with a soft silicone perimeter nasal mask adds new versatility with superior comfort. The latest in seal technology is interchangeable with different size Nasal Pillows.



Product Features

• Interchangable Nasal Pillows or (available separately) DreamSeal Nasal Airway Assembly

• Soft silicone inner and outer membrane

• Floats over nose as airway is pressurized

• Fast, easy set up

• No confining straps across the face and limited skin contact.



Specifications and Materials of Construction

• Nasal Pillows: Medical grade silicone

• Straps: Nylon and spandex

• All Breeze SleepGear components are latex free

• Pressure Range: 3-20 cmH2O

• Hose Attachment: Fits 22 mm OD connection
View More

+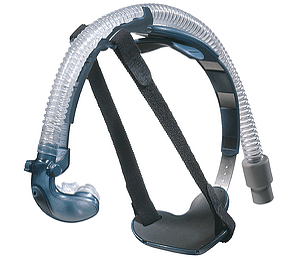 New Version Breeze SleepGear™ CPAP Inter...