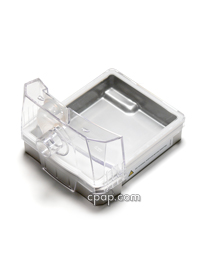 CPAP Humidifiers
The movement of CPAP air through the air passages can dry out the airway. Humidifiers add moisture to the airstream to help reduce irritation to the nasal passages. Not only are dry air passages uncomfortable, but the swelling can actually narrow the airway affecting therapy pressure requirements. Humidification is the comfort feature most commonly added to CPAP therapy. There are two kinds of humidifiers: cool passover and heated. A cool passover humidifier passes room temperature air over a chamber of room temperature water. A heated humidifier heats water to warm it and as the airstream passes over the heated water, it picks up the moisture and warms the air. The heated air is able to hold enough moisture to maintain a comfortable airway.
Shop Now
CPAP Humidification FAQs
CPAP Humidification Video
More Videos
CPAP Users Say
CPAPtalk.com CPAP User Discussions
Did You Know?, CPAP Humidification
Distilled water is recommended for use in your humidifier as it has less minerals and may be more sanitary.
Humidifiers add moisture to the air you breathe so your airways don't get dried out from the pressurized air.
The amount of humidification to your air will depend on your humidifier heat settings.
CPAP users who use humidification are more likely to stick with their therapy.
CPAP Humidification Articles
CPAPtalk.com Wiki Articles
Research Articles
CPAP.com Newsletters
Top CPAP Humidification
Top CPAP Humidification by User Review
Top CPAP Humidification by Sales
Top CPAP Humidification by User Review
Top CPAP Humidification by Sales