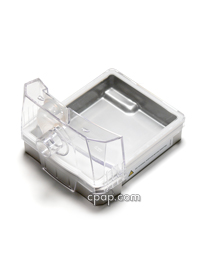 CPAP Humidifiers
The movement of CPAP air through the air passages can dry out the airway. Humidifiers add moisture to the airstream to help reduce irritation to the nasal passages. Not only are dry air passages uncomfortable, but the swelling can actually narrow the airway affecting therapy pressure requirements. Humidification is the comfort feature most commonly added to CPAP therapy. There are two kinds of humidifiers: cool passover and heated. A cool passover humidifier passes room temperature air over a chamber of room temperature water. A heated humidifier heats water to warm it and as the airstream passes over the heated water, it picks up the moisture and warms the air. The heated air is able to hold enough moisture to maintain a comfortable airway.
Shop Now
CPAP Humidification FAQs
A heated humidifier uses heat to warm the water to add moisture to the airstream. The heat is adjustable for more or less moisture. A heated humidifier water chamber is much smaller than a passover humidifier water chamber.

In our experience, it is common for CPAP users to report that their therapy is greatly enhanced by the use of a heated humidifier.

There are three types of heated humidifiers:


A passover humidifier uses a chamber of room temperature water with the CPAP to add moisture to the airflow and reduce irritation to the nasal passages.

Air flows from the CPAP through a short hose to the humidifier chamber where the air "passes over" the water to pick up whatever moisture it can. The air then flows into the six foot hose to the mask.

Passover humidifiers may provide sufficient moisture with CPAPs set at lower-end pressures. However, if the moisture is not sufficient there is no way to increase the amount of moisture added. The water is room temperature. In cold climates, the water temperature will drop causing the CPAP air to become very cold, and causing the amount of moisture to be reduced.
An integrated humidifier is used with a specific CPAP and fits directly onto the machine. For most heated humidifiers, this design eliminates the need for a second hose as well as a second power cord.

An advantage of an integrated humidifier is that it works very closely with the CPAP machine to deliver humidification. Also, an integrated humidifier is a compact unit that uses fewer parts to provide moisture to the user.

A disadvantage of the integrated humidifier is the user will receive less moisture when it is used with a passover humidifier. The smaller surface area effects the amount of moisture produced. Also, a integrated humidifier will only function with the CPAP for which it was designed.

You can see if your machine has an integrated humidifier option by reviewing our Compare Charts.

An example of an integrated humidifier is the PR System One Heated Humidifier as seen below attached to a machine in the PR System One line.

Here are some of the integrated humidifiers we carry:

DreamStation Heated Humidifier
Transcend Heated Humidifier
IntelliPAP 2 Heated Humidifier with Pulse Dose Humidification
PR System One 60 Series Heated Tube Humidifier with Heated Tube
A "built in" humidifier is designed as a part of the CPAP machine and cannot be removed or separated from the CPAP machine. As with an integrated humidifier, the design eliminates the need for a second hose or power cord. The water chamber can be removed for cleaning or replacement purposes.

The advantage of a "built-in" humidifier is its compact shape, which operates on fewer parts. This integrated design helps to ensure optimum moisturized comfort and effectiveness when CPAP therapy and humidification are used together. Also, it allows an option for the humidification to be turned off while the CPAP is blowing.

A disadvantage is that a built in humidifier may produce less moisture if used as passover because the surface area is typically smaller. Also, since the humidifier is "built in" to the machine, detaching it is not an option. This can be an issue for frequent travelers. Lastly, if the machine or humidifier stops working, the entire unit must be sent in for repair or replacement, not just the component that failed.

An example of a machine with a built in humidifier is the ICON Auto CPAP Machine with Built In Heated Humidifier and SensAwake as seen below.
Here are some other machines we carry with built-in humidifiers:

AirSense™ 10 CPAP Machine with HumidAir™ Heated Humidifier
AirSense™ 10 AutoSet CPAP Machine with HumidAir™ Heated Humidifier
iCH Auto CPAP Machine with PVA and Built-In Heated Humidifier
+ See More

A stand alone humidifier is a component that will work with any CPAP and does not attach directly to the machine. It has its own power cord and a short hose to connect it to the CPAP. Generally it will sit next to the CPAP machine and is slightly larger than an integrated humidifier.

The advantage of a stand alone humidifier is the fact that it may be used with any CPAP machine.

The main disadvantages are that the size is often larger than either a "built in" or integrated humidifier and that a short hose is needed to connect it to the CPAP machine.

An example of a stand alone humidifier is the Fisher & Paykel HC150 Heated Humidifier as seen below.
CPAP Humidification Video
More Videos
CPAP Users Say
CPAPtalk.com CPAP User Discussions
Did You Know?, CPAP Humidification
Distilled water is recommended for use in your humidifier as it has less minerals and may be more sanitary.
Humidifiers add moisture to the air you breathe so your airways don't get dried out from the pressurized air.
The amount of humidification to your air will depend on your humidifier heat settings.
CPAP users who use humidification are more likely to stick with their therapy.
CPAP Humidification Articles
CPAPtalk.com Wiki Articles
Research Articles
CPAP.com Newsletters
Top CPAP Humidification
Top CPAP Humidification by User Review
Top CPAP Humidification by Sales
Top CPAP Humidification by User Review
Top CPAP Humidification by Sales